Morning mail: national energy guarantee showdown looms
Good morning, this is Richard Parkin bringing you the main stories and must-reads on Friday 10 August.
Top stories
Josh Frydenberg will need to compromise on the national energy guarantee – either with the states or with his own backbenchers – the Victorian energy minister has said before today's crucial meeting of energy ministers in Sydney. With the federal energy minister facing internal resistance to the Neg from colleagues including Tony Abbott, Victoria's Lily D'Ambrosio suggested working cooperatively with the states and territories might be the smarter path.
"We want to continue the conversation and the negotiation," D'Ambrosio said. "I would hope there is enough maturity around the Coag energy council table to see the conditions we have put forward are not unreasonable." Frydenberg has said he wants to emerge from today's talks with an in-principle agreement before federal parliament resumes next week.
Russia has reacted angrily to news of US sanctions in response to the alleged Salisbury nerve agent attack, with officials calling the measures "absolutely unlawful". Russia's representative to the UN, Dmitry Polyanskiy, responded with outrage: "The theatre of the absurd continues," he tweeted. "No proofs, no clues, no logic, no presumption of innocence, just highly-likelies. Only one rule: blame everything on Russia." The US announced it would impose restrictions on the export of sensitive technology to Russia and could revoke Aeroflot's landing rights unless the Kremlin opened its scientific facilities to international inspections.
Only one in five Australian workers report receiving a pay rise to match increases in the cost of living, with almost half claiming their material conditions have deteriorated. With ABS figures showing real wages at a record low, it's an issue expected to loom large at the next federal election. "The cost of living is going up and people are struggling," said the ACTU secretary, Sally McManus. The Coalition has said one of the key outcomes of its 10-year company tax cut package would be an increase in employment and wages, although the Treasury estimates the package will boost wages at most by $750 over the decade.
Saudi Arabia faces international condemnation after at least 29 children were killed by an airstrike in Yemen. Save the Children reported that a bus returning to school from a picnic was struck by a bombing raid from the Saudi-led coalition. The official Saudi press agency called the strike a "legitimate military action" and accused Houthi rebels of using children as human shields. The Houthis' TV station Al-Masirah said 50 people were killed and 77 wounded, and broadcast unverified footage of dead and bloodied children, many carrying blue Unicef rucksacks, being transferred to a hospital.
The US vice-president, Mike Pence, has announced a new military service – US Space Force – to become operational by 2020, protecting America's strategic interests in space from Russia and China. "Previous administrations all but neglected the growing security threats emerging in space," Pence said. "Our adversaries have transformed space into a war-fighting domain already, and the United States will not shrink from this challenge." The retired astronaut Mark Kelly called the proposed force, which will require congressional approval, a "dumb idea".
Sport
The AFL has had a rotten year on many fronts. But a new book from the former political reporter George Megalogenis, The Football Solution, looks beyond the vicissitudes of one season to examine how the game, however clumsily, has bridged the divides of class, religion and ethnicity. When you over-regulate and over-analyse anything, Megalogenis stresses, you end up destroying it, writes Jonathan Horn. But football remains an anchor of sorts, a winter ritual, a reference point, a conversation starter, and it's something we have to nurture and protect.
The Premier League transfer window has snapped shut, with Everton landing three major signings including Barcelona's Yerry Mina, and Fulham taking their summer spending above £100m with the signing of Marseille's André Franck Zambo Anguissa. Here's a complete list of transfers from the top European leagues.
Thinking time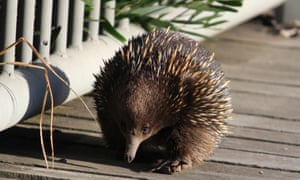 Not everyone would be delighted to receive 150 echidna poo samples in the post, but Tahlia Perry was thrilled. For a PhD student researching the molecular biology of echidnas, the best way to collect the monotremes' hormones is by testing their scats. After Guardian Australia's call out for citizen scientists in February, thousands of people downloaded the echidna CSI app to report echidna sightings, and a surprising number sent in scat samples. There were more sightings than expected in densely populated areas, and the team hopes to find out what biological effect this has on the animals.
Obscenely large executive pay packets, egregious customer rip-offs, lies told to regulators – amid the eye-opening revelations at the banking royal commission, it's little wonder that the governance of corporations is suddenly a hot topic, writes Anne Davies. Self-reflection has finally arrived but the principles for behaviour circulated by the ASX governance council have been written off by conservative columnist Janet Albrechtsen as an extension of leftist "culture wars" and "a dangerous left plot" to bring "the nanny state" to corporate Australia. Can this really be true?
Australia is a much more racist country than its political class likes to admit, writes Jack Latimore. A certain amount of privilege in life can provide a buffer to the racialised discrimination, prejudice and hate speech that daily infects the lives of people of colour in Australia. Surely by now claiming colour-blindness isn't possible. But incredibly, such selective awareness persists, partly thanks to the "filter bubbles" created by the algorithms that shape the safely curated backwaters of our social media newsfeeds.
What's he done now?
Donald Trump has enthusiastically echoed his vice-president's calls for the establishment of a Space Force. But as he continues to rail against the "Rigged Witch Hunt", his silence over the US's imposition of sanctions on Russia and the Kremlin's hostile reaction has been keenly noted, writes Simon Tisdall.
Media roundup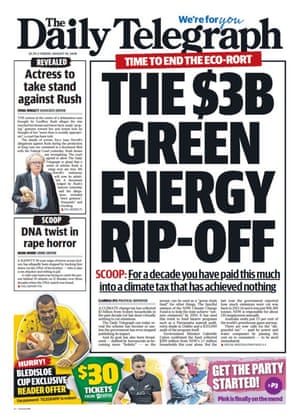 The NAB chief executive, Andrew Thorburn, has hit back after another highly damaging day at the bank royal commission, claiming the bank was not guilty of criminal acts, even if its actions were not honourable, writes the Financial Review. Fairfax mastheads report that the personal conduct in Afghanistan of the decorated veteran Ben Roberts-Smith has been increasingly the subject of "disturbing rumours". And the Daily Telegraph claims Sydney households are being stung by the Climate Change Fund scheme, which has reaped almost $3bn over the past decade.
Coming up
The commonwealth, state and territory energy ministers are meeting in Sydney to try to thrash out a possible compromise on the national energy guarantee.
The Senate committee investigating electric vehicle use in Australia is holding its first hearings in Adelaide.
Supporting the Guardian
We'd like to acknowledge our generous supporters who enable us to keep reporting on the critical stories. If you value what we do and would like to help, please make a contribution or become a supporter today. Thank you.
Sign up
If you would like to receive the Guardian Australia morning mail to your email inbox every weekday, sign up here.